Move to Nurture Pilates mat classes run every Thursday in Byron Bay. We gather in a sunny church in the heart of Byron Bay. Post natal mums, people with lower back pain, bursitis and those just wanting a Pilates workout can all join the classes safely.
The venue is St Paul's Church, 14 Kingsley Street, Byron Bay. Pilates has no religious affiliation with the church! The church has moved all the pews out so that the community can use the space. It is a well loved, clean and very relaxed space where every one is welcome.
Mats and the props for the week are laid out on the floor. Your teacher, (me) Brigid Pearse will come and meet you and ask you about any specific needs you have, unless you have discussed this on the phone.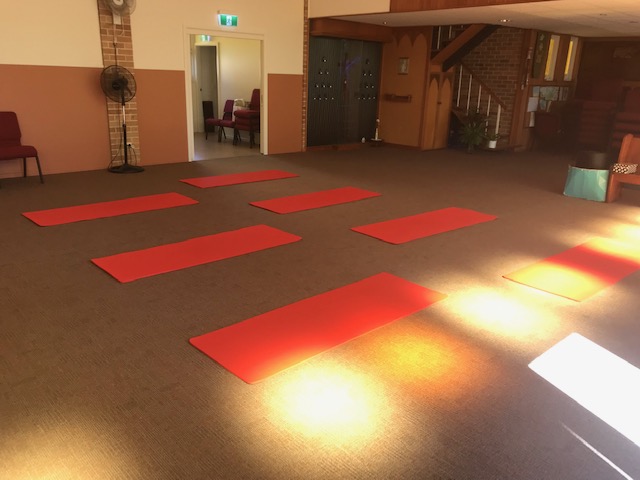 There are three classes on each Thursday during school terms.
Times: 10am Restorative Plates (Osteoporosis safe) 12:15 Lunchtime Pilates and 2pm Pilates for Parents (Post natal safe)
Classes are suitable for beginners to intermediate level and focus on Pilates fundamentals including breathing, deep abdominal activation, hip stability and spinal mobility. The exercises are deceptively simple, as they are very effective at working the body in a balanced way.
What to bring: Wear comfortable clothes for movement and please bring cash to pay for the class or book via your booking link. There is a water filter to fill water bottles. No socks are required for the class and no shoes are worn during the class.
Creche: A creche is available for the 2pm Pilates for Parents class. Our carer Lore is just next door to the Pilates hall in a fully equipped creche. Please contact Brigid to arrange a spot for your little one in the creche or book via the booking link.
Parking: is available behind the church building or in the street.
I look forward to you joining a class! Call Brigid on 0404 459605 to discuss your needs.
What to expect at a Move to Nurture Pilates mat class