When people come to do Pilates with me, getting up and down off the floor with ease is not usually something they say is a goal. They say things like stronger core strength. When I talk to clients about their everyday activities getting up and down off the floor can cause many people problems. We don't always link 'exercise' to improving the everyday movements that we do. Well, exercise should make these everyday movements easier.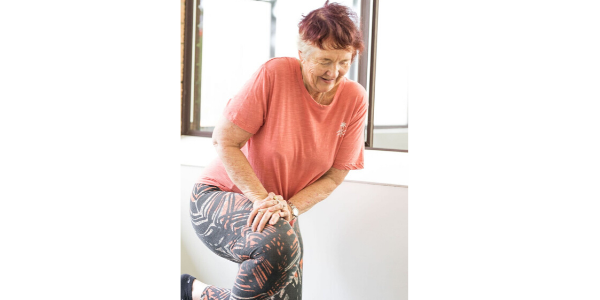 This is Jay an 82 year old client of mine (and also my mum). Jay started Pilates when she turned 60. She was constantly at the chiropractor and she struggled with her weight all her life. Jay committed to Pilates, she did classes at least twice, often three times per week, for more than twenty years. She is stronger at 82 than she was at 50. She rarely goes to the chiropractor now.
Even with this amazing strength, Jay still really struggled to get up and down off the floor. Until 4 weeks ago she switched to my online mat classes (like many of my clients). At home, she jumps online when it is time for class and joins me and other clients for a mat class.
After 4 weeks she is delightedly getting up and down off the floor, repetitively! Because she can. You see, getting up and down off the floor in a mat class, and working with gravity and resistance is very good practice for getting up and down off the floor in real life.
If you are struggling to get up and down off the floor, or just starting to struggle with this there are some things you can do to improve this:
Practice the hip crease exercise, a lot. Do a set of at least 20 twice a day, and as you get stronger get a little lower each time.
Do the walking in place exercise everyday.
Practice becoming aware of you centre ( the muscles between your ribs and hips all the way around your torso). Use your in-breath to expand your torso all the around and with your out-breath let the muscles return in to your body. This requires no force, just let the natural mechanics of your body respond to your breath.
Doing these three things each day will help you to build leg strength and encourage deep abdominal engagement. If you need more help to improve your ease with getting up and down off the floor contact me on the details below, I love helping people with this!
Brigid Pearse is a Pilates and Movement teacher based in Lennox Head offering virtual classes during the lockdown. These are real time classes where Brigid leads clients through an all levels Pilates mat work and movement therapy via the internet. Check out the home page for more details.
Getting up and down off the floor with ease