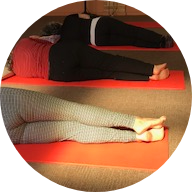 Thursdays 12:15
Lunchtime Pilates is a class designed to refresh and connect you to your body in the middle of the day. Step away from your desk / shop counter / workspace and balance the repetitive movement of work with the therapeutic movements of Pilates.
Benefits of Lunchtime Pilates include:
Better abdominal engagement and less back pain
Improved circulation and lymph drainage
Upper back mobility and strength leading to less neck and shoulder pain
More connection to the body through the breath
You can take all of this with you into the rest of the day. The great thing about Pilates is you don't have to sweat a lot to get a great work out. So showering afterward is not a necessity.
Lunchtime Pilates is a multi level class suitable for anyone who can make it in the middle of the day! Brigid, an experienced teacher, can tailor the classes from beginner to more advanced on the spot.
To come along just call Brigid on 0404 459605 to reserve your mat. Classes are $15 and all mats and props are provided.